Events
Daraz Black Friday 2016 -The mega online shopping event of Pakistan is on the way
Black Friday is celebrated as 'ThanksGiving day' in the United state. It is a day when people find really mega sale and discount offers almost over every product.
Before Last year no one knows much about this day in Pakistan, it is just Daraz.pk (Pakistan largest e-commerce giant) who introduced this day successfully last year. Undoubtedly, black Friday is the most extraordinary 'sale & shopping' event offered by Daraz.pk in Pakistan.
After successfully done with this day in 2015 Daraz.pk has joined hands with Pakistan's leading telecommunication company Zong and this is powered by EasyPaisa which is most reliable and widely used payment transfer service throughout the country.
Black Friday 2016, is going to start from 25th of November.
                     |||||You can get the details from official site: Daraz – Black Friday |||||
From electronic gadgets to home appliances you can get every product on very cheap price, last year it happened that people bought so many extra stuff and then sell them out having their own profit after that black Friday day.
On this day Zong is offering 4G SIMs with 12 GB free data along with every 4G smartphone sale.
Zong, Executive Director- Moied Javeed said
"Daraz is the pioneer of Black Friday in Pakistan and we are very excited to work with them to bring the biggest online retail event of the year. What we are going to see on November 25, 2016, is going to be nothing short of a Digital Revolution and we are very excited to be working together towards the same"
Daraz had done a business about 132 million across different categories such as electronic devices, clothes, mobile phones etc. and was record breaking amount which Daraz hasn't made before in its selling history.Demands from different regions of Pakistan were not getting the end, virtual shelves on the site were continuously filling up to make everyone happy by amazing offers on this day.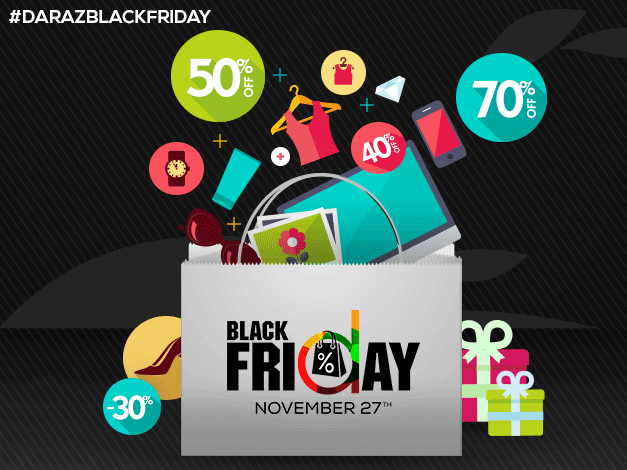 Have you ever have such amazing discount offers up to 80-85% on more than 150,000 products, if No, then you are going to cross this on 25th November. As Daraz.pk has promised to give ever best service and rate for this event.
Payment methods
Online payment method is one of the biggest obstacle in online shopping in Pakistan, hence Daraz offers nearly all possible payment options to its buyers, like cash on delivery (COD), online money transfer using any bank account (Standard Chartered Bank, Meezan Bank, MCB or JS Bank credit/debit card ) or using the easiest method that is easyPaisa.
Daraz is in long-term collaboration with EasyPaisa now, and it is offering very smart discounts and ease. Buyers can pay using their debit/credit cards or via any nearer EasyPaisa shop with the guaranteed security of all transactions.
Omer Moeen Malik- head of payments at EasyPaisa, Expressed his feelings
"With Pakistan's best Online Payment Solution, Easypay, we are very happy to have partnered with Daraz again for Black Friday 2016 ─ together we will continue to move the boundaries of e-commerce and financial inclusion in Pakistan. We are confident that Black Friday 2016 will be the biggest online sale the country has seen and we are excited to be a part of the e-commerce revolution in Pakistan,"
Other dealers and popular brands are also offering great offers on this day, like Sunsilk, Ponds providing beauty and makeup products, QMobile, Microsoft and other vendors also giving many such surprising offers and deals to their customers. Besides this Careem (biggest cab booking service popular in Pakistan) will offer the free ride on every order on Black Friday day.
Bjarke Mikkelsen- Co-CEO of Daraz, Said.
"We have created strategic alliances with leading brands including FMCGs, fashion brands and banks offering additional discounts, more payment options and the biggest assortment to bring a one-stop shopping destination for all our customers!"
Jonathan Doerr, further Added.
"The Daraz team is working hard to bring the biggest Black Friday Pakistan has ever seen and is geared up to deliver amazing customer experiences so mark your calendars for November 25 and download the Daraz app today to get early access to the exciting Zong Black Friday deals,"
So wish you all the best to grab the most out of this event on the upcoming mega Black Friday day in Pakistan, where you will have countless brands and service providers to make your shopping experience ever best on 25th of November.