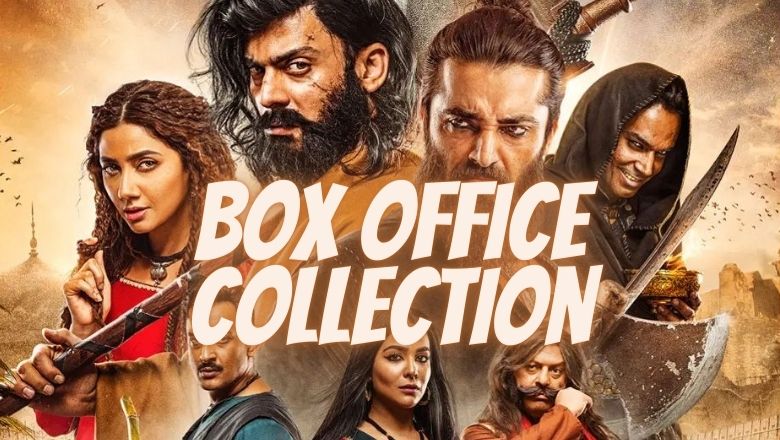 Across domestic and overseas markets, The Legend Of Maula Jatt has been a roaring success.
The legend of Maula Jatt is on a historical run globally as tallies exceed a monstrous 200+ Crore. The film reached the 200-crore mark across all channels, and it's appearing overseas just as fast with 100+ crores already reported from there!
As a remake of the blockbuster Punjabi movie "Maula Jatt," The Legend of Maula Jatt has a budget of 45 to 50 crores approximately. Director Bilal Lashari reveal in his interview with The movie has to be released in Pakistan on 400+ screens in all the major cities and is expected to collect 300+ crores at the box office. and the prediction was right.
The Legend Of Maula Jatt box office collection dominates national and international cinema as expected. Critics and analysts had expected the hype to do something for the film.
Pakistan's most anticipated movie is performing exceptionally well at the box office. Looking at The Legend Of Maula Jatt's box office collection figures, it appears that Bilal Lashari made this film to break the records.
The Legend Of Maula Jatt Box Office Collection All The Time
The Legend of Maula Jatt earned more than 220 Crore till now, and Bilal Lashari has confirmed it. Overall, The Legend Of Maula Jatt movie has collected PKR 100+ Crores worldwide on its first opening weekend. In Pakistan, the movie collected 86 Crores and in overseas Pakistan, it secured 120+ crores, breaking every Pakistani movie collection record.
The world-class direction of Bilal Lashari made history and broke records by listing 1 top performer at UAE Cinemas and at 4 in Canada, beating many Indian Punjabi and Hindi movies. Bilal Lashari The Legend of Maula Jatt leaves behind Ram Setu and Thank God in international markets, and earns more on its 13th day than its opening day. The legend of Maula Jutt become the highest Punjabi-grossing film Worldwide beating Carry on Jatta and Saunkan Saunkan records.
The movie has broken the record for occupancy ratio at many cinemas worldwide.
Those are some numbers that the filmmakers aspired to. Some analysts predict that the movie will be a big success on Sunday, directly competing with the Indian movie KGF2.
Previously, the movie had generated 80 crores in its first week.
| | |
| --- | --- |
| First Day Collection | 9.3 Crore |
| Second-Day Box Office | 9.7 Crore |
| Third-Day Box Office | 5.7 Crore |
| Fourth Day Box Office (Sunday) | 10.2 Crore |
| Fifth Day Box Office Collection | 8.6 Crore Estimated |
| Tuesday Box office Collection | 7.4 Crore Estimated |
| Wednesday Box office collection | 8.9 Crore |
| First Week Total Collection | 80.98 Crore ($3.6M) |
| 10 Days Box office Collection | 100+ Crore |
| Total Box office Collection till Now | 220 Crore |
The legend of Maula Jatt box office collection
Read: The Legend of Maula Jatt Breaks the Record of Pakistani History
The Legend of Maula Jatt First Day Box Office Collection
PKR. 9.3 Crore (RS 93 Million)
According to our sources, It has broken all the records and collected 4.9 crores domestically and 4.4 internationally on first-day release all over the world. This is a record-breaking number for the preview shows of any Pakistani film and it is more than the lifetime collections of many Pakistani cinema releases. Despite not being released on Friday and Sunday. Box office projections indicate it will cross scores and collect higher in the coming days. As announced by Bilal Lashari, all the revenue generated from its opening day will be given to the flood victims of Pakistan.
The Legend of Maula Jatt Second Day Box office Collection
PKR 9.7 Crore (PKR 97 Million) second-day box office entry.
As expected, there is a huge rush at the movies on Friday. At the box office, our sources claim it has crossed the 10 crore mark and collected 9.7 Crore on Friday.
Blockbuster The legend of Maula Jatt Third-Day Box office Collection.
PKR 5.7 Crore (57 million PKR)
On its third release day, it's estimated that it'll hit the record, but due to the working day, occupancy might decrease. It collectively manages to earn 5.7 Crore worldwide. But, according to some reporters, it occupies a massive amount of space in the overseas Pakistani community. There is no doubt that this pre-blockbuster movie was much anticipated by the audience. No matter whether they know the Punjabi language or not, Pakistanis are going crazy. Although we have seen some vlogs where English speakers love and rate movies highly.
Fourth Day (Sunday) Box office Collection
Sunday is always known as movie day. It is common for people to watch movies with their families on Sundays. On its fourth day of release, The Legend of Maula Jatt collected 4.7 crores in Pakistan. Globally, it has accumulated 5.5 Crore. According to the figures, the Legend of Maula Jatt has collected 10.2 crores so far on Sunday.
Fifth Day (Monday) Box office Collection of The Legend of Maula Jatt
Official figures have not yet been released, but some media sources predict the film collected 8.6 crores at the box office and broke the cinema occupancy record.
Tuesday Box office Collection
According to reports, the movie earned 5.4 crores at the box office and became the fastest-growing movie in Lollywood history.
Overseas Box office Collection
According to Bilal Lashari, the movie has collected 76 crores from overseas Pakistan and is screening on 70+ screens in the USA and 82 screens in the UK. There has been a huge buzz in overseas Pakistan. Many fans are also waiting for its release in India, but no confirmation has been made yet.
North America Box Office Collection
The Legend of Maula Jutt becomes the first Pakistani film ever to hit the $ 1 million mark in North America. The film is unstoppable to break the record in North America as 2nd Friday has come similar to the first Friday.
First Week Collection: $941k
second Friday $115k
Total $1.05m (23.35 Crore)
Uk Box Office Collection
According to an official source, The Legend of Maula Jatt beat many Indian movies in Uk and unstoppable broke the record. TLOMJ is having an unprecedented run in the UK. The Film grossed a solid £ 25k on the 3rd Tue which is more than the Day 1 number of most Indian films in the UK.
Week 1. £ 543k
Week 2. £ 364k
3rd Weekend. £ 121k
3rd Mon. £ 17k
3rd Tue. £ 25k
Total. £ 1.07m (27.28cr)
Canada Box Office Collection
In Canada, The movie has collected $525K through Sunday.
UAE Box office Collection
In UAE, Movie has performed number 1 at the box office.
Saudia Arab Box Office Collection
Weekend $97,833
Weekdays $42,274
Total $140,107 (3.05 Crore)
Australia Box Office Collection
| | |
| --- | --- |
| Thursday | A$ 33,096 |
| Friday | A$ 59,649 |
| Saturday | A$ 81,750 |
| Total | A$ 174,495 (2.36cr) |
Source: @Boxofficedetail
Who is behind this masterpiece VFX and Visual?
Lucid Studios, that have previously worked on Marvel movies including Venom, Black Panther, and Avengers, has worked on the VFX for The Legend of Maula Jatt. The action seen in the film has been choreographed by the team that worked on the popular Hollywood films Gladiator and 300.
Crew Cast:
Fawad Khan as Maula Jatt
Hamza Ali Abbasi as Noori Nath
Mahira Khan as Mukhoo Jatti
Humaima Malik as Daaro Nattni
Gohar Rasheed as Maakha Natt
Shafqat Cheema
Shamoon Abbasi
Nayyer Ejaz
Faris Shafi
Arsalan Cheema
Mohsin Shahzad Bagga
Updates:
A tweet was posted by Bilal Lashari on Twitter announcing the addition of more cities based on popular demand.
Breaking
It's Raining Records For The Legend Of MaulaJ att. After RRR, The Film Now Crosses the Mega Budget Ranbir Kapoor multi-starrer Brahmastra (£ 1036k) In the UK. The Film's Gross After the 3rd Monday Stands At A Record £ 1.045m (26.43cr)!