Top Ranked
Top 8 Best Event Management Companies in Islamabad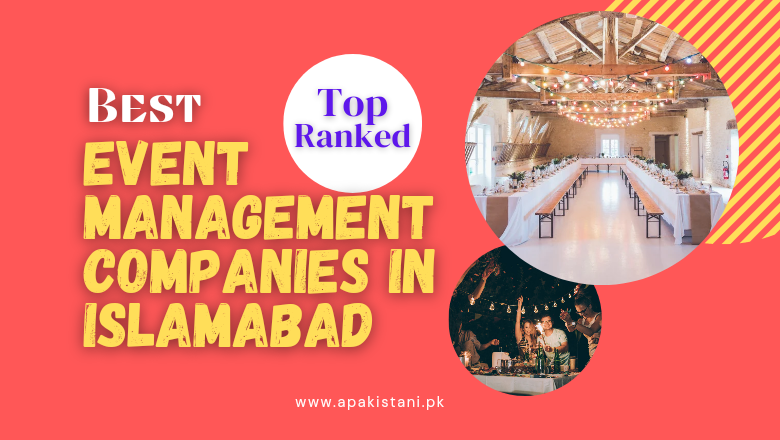 It is not wrong if we say It can be confusing and overwhelming to plan an event – the logistics, the venue reservations, and the planning can all be challenging. So you've decided to throw an event with your family, friends, or colleagues at your favorite location. For a more coordinated and organized execution of your planned event, you should look for a professional event management company.
Islamabad is a place of great prosperity, multilingual and multicultural and there is a need for these event management companies for any traditional & religious festival, ceremonies, weddings, and parties. For your convenience, we've compiled the top 8 best event management companies in Islamabad to make sure your event runs smoothly. These companies specialize in managing the complex and costly exercise of organizing events.
How do good event management companies fulfill their responsibilities?
A good event management company can make your event much more memorable and enjoyable by creating that 'wow' effect. Utilizing the minds of an innovative team, they execute some of the most creative and trendy ideas. With their effective and affordable packages, the end result will be unforgettable. You can relax and enjoy the event because the performers, venues, and technicians make sure that everything runs smoothly. There are a lot of companies that have access to modern equipment, such as sound and lighting systems, that you won't find at home. To make your event world-class and lovely, the best event management companies manage the safety and health risks within your budget limits.
1- BlackFire Event Management
| | |
| --- | --- |
| Phone | 0321 8646164 |
| Email | [email protected] |
| Website | www.blackfire.com.pk |
| Address | Office 15, Huzaifa Center, I-8 Markaz Islamabad. |
| Operating Hours | 09 AM – 05 PM (Sunday Closed) |
When it comes to planning, managing, and executing events, Black Fire Event Management is the jack of all trades. In addition to its exceptional event management skills, BlackFire has an incredibly contagious enthusiasm for its work. Their events are designed, organized, and executed in a timely, professional, and affordable manner.
BlackFire Event Management is not just an event company has extraordinary young CEO and a Managing team by BlackFire Group. Staying outside the box and planning events that push the boundaries has helped them build a reputation for exceeding clients' expectations. One of Islamabad's best event planning services delivers just as you would expect!
Client Feedback
I was living abroad and was looking for a wedding planner who can help me with my wedding ceremony. I came across BlackFire Team. Salman is the person who had contacted me first and he was very cooperative and professional. We had discussed about the things that I would like to have in my ceremony, which luckily all of them were present at the event. The ceremony went smoothly as planned!

Ahmad Khan
Phone
0333 5312378
Email
[email protected]
Website
https://helloevents.pk/
Address
Building 21 Pha Apartment, G-10/2 Islamabad, 4600
Operating Hours
Monday – Saturday 8 am – 8 pm
Sunday 10 am – 10 pm
Hello Events is a birthday party planner and wedding planner based in Islamabad, Pakistan. They offer their services across the country and aim to help those who want to organize amazing events for their lovely guests.
Hello Events is known as the pioneer in wedding and birthday party planning. With a passionate team and experience, they are considered the best event management company in Islamabad. If you're looking to throw an unforgettable birthday party or wedding, look no further than Hello Events. You won't be disappointed!
Client Feedback
It was my son's first birthday + aqeeqah. This team has done a tremendous job in the decoration. Their team also performed magic show n games for the kids. They also provided face painting activity in the event. Which made the event remarkable
Will highly recommend them for all kinds of events.

Mariam Aslam
Phone
0333 5076249
Email
[email protected]
Website
https://web.facebook.com/samsevents
Address
Al Hameed Mall, Office no 6 third floor, G-11 Markaz Islamabad
Operating Hours
Sunday – Saturday 11 am – 09 pm
Friday 02 pm – 09 pm
From the heart of Islamabad, SAMS Event Management offers the best wedding planning services. They are a highly trained team of event coordinators who are educated, trained, and certified in non-traditional weddings.
Client Feedback
It was my sister's wedding and we had chosen SAMS Event Management for decor and catering which definitely was one of the best decisions we had taken. the decor was flawless, beautiful flower arrangement and every detail was taken care of in very professional manner. The food was yummilicious, we still get compliments from guests for that.

Their team was very courteous, listens to your specifications very attentively and then deliver what they promise.

I would totally recommend them for your wedding, they take care of everything like a family member does.

Ramsha Malik
4- Mass Comm Event Solution
| | |
| --- | --- |
| Phone | 0333 9854925 |
| Email | [email protected] |
| Website | http://masscomm.pk/ |
| Address | Cloud Emporium, Gulberg Greens Executive Block Koral Town, Islamabad, |
| Operating Hours | Monday – Saturday 09 am – 6 am |
Mass Comm Event Solution has the best event planner in Islamabad if you want an extraordinary and memorable wedding.
The event solution is perfect for those who don't want to worry about any arrangements. You can chose the full planning package or design as you need. You can get online consultancy their social media and website are regularly updated about their business.
Client Feedback
Masscomm solutions is a best event Management company in Pakistan I was able to witness first hand their attention to detail. The location, food, DJ, host, theme, photo booth and other vendors were amazing! The crowd must have been at least 10,000 people and the overall consensus from the company was very very impressed I specifically like the way they transitioned from one segment/portion of the evening into the next, keeping us engaged with entertainment and not having any hiccups.. highly recommend! The flow of the event is paramount and Masscomm Solutions ran the show smoothly and professionally from beginning to end!

Gulnaz Bhkhari
| | |
| --- | --- |
| Phone | 0304 9198575 |
| Email | [email protected] |
| Website | https://zee-j.business.site/ |
| Address | House No 52, Street No 9, E-11/1 , Islamabad, Pakistan |
| Operating Hours | Monday – Sunday 9 am–11:30 pm |
Zee J Events is a full-service event management company that designs stunning weddings and events with flawless planning and seamless execution.
The company strives to execute your vision flawlessly and to provide you with a wonderful experience.
You can rely on this wedding and events company to ensure that your event is timeless, yet unique, and flawlessly organized.
Client Feedback
We wanted to arrange a birthday party for our son on his first birthday. We were planning alot and didnt wanted to take any chance. Luckily, we got in touch with Zee J Events. They arranged the event as per our requirement with complete efficiency. We were really impressed by food and decor arrangements and staff was very friendly and helpful too.

Wasif Sherazi
6- Chaar Charagh event management:
| | |
| --- | --- |
| Phone | 0333 5699245 |
| Email | [email protected] |
| Website | https://chaar-charagh.business.site/ |
| Address | Office 412, 5th floor, Civic center, Gulberg Greens Executive Block |
| Operating Hour | Open 24 Hours |
Providing comprehensive and customizable planning and design services, they flawlessly produce and thoughtfully design weddings that are timeless, elegant, and romantic. Their Each wedding is designed according to the client's style and vision, and meaningful details are added to make it truly unique.
Because of their flawless and wide selection, they are considered the best event management company in Islamabad.
Client Feedback
Best media production team. Covered our office event very well. Highly recommended for events.

Sanam Re
| | |
| --- | --- |
| Phone | 0311 9603000 |
| Email | [email protected] |
| Website | https://miradoreproductions.com.pk/ |
| Address | Office #2 Us Aid Plaza, Fazl e Haq Road, G 6/3 Blue Area, Islamabad |
| Operating hours | Monday – Friday 11 am 6 pm |
Mirador Productions is a full-service production and event management firm based in Islamabad that combines business and events passions. Their team understands that a properly executed event can support a company's strategic vision, be integrated into a company's marketing plan, or serve as a means of building networks and generating client loyalty by bringing a fresh, innovative approach to event management.
Client Feedback
Excellent event planners with too many creative artist in team like mani bhai

Gohar Shaikh – Facebook
| | |
| --- | --- |
| Phone | 0337 0444435 |
| Email | [email protected] |
| Website | https://www.eventopedia.com.pk/ |
| Address | Office No 4-A, Business Incubation Center, IIU, H-10, Islamabad, |
| Operating Hours | Monday – Sunday 10 am – 6 pm |
Event-o-Pedia Pvt LTD specializes in planning and executing successful events. Whether it's a corporate event or a personal event, they've got you covered. In Islamabad, they are one of the few registered event management companies.
With the power of partnerships, Event-o-Pedia Pvt LTD will make your events a success. To make the lives of their clients easier, they work together.
Client Feedback
Highly professional event management Good luck❤️

Abdul Jabbar
Conclusion
The success of your event depends on the care and expertise of the team you choose to manage it. The best event management companies in Islamabad are those that have a proven track record of satisfied clients and successful events. When choosing an event management company, be sure to ask for references and compare pricing before making your final decision. And don't forget to check out our list of the top 8 best event management companies in Islamabad to help you make your choice!
How We Review
aPakistani.pk provides in-depth, unbiased guides about businesses and services in Pakistan. You can check the details here.