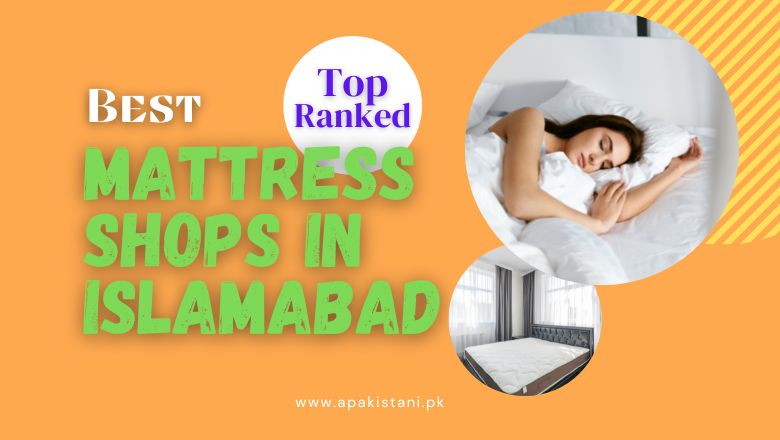 Does your bed no longer give you a comfortable and good night's sleep? If so, then it's time for you to go shopping for the best mattress shops in Islamabad! But where do you start? With so many shops, offerings and prices, choosing the right mattress can be an overwhelming experience. To make the whole process easier, we made this complete guide and the best store for mattress shopping in Islamabad/Rawalpindi. So, you'll find everything, from the shops to visit up to the costs and other factors to consider when choosing a mattress
Where To Shop For Your Mattress
The first step is deciding where to shop for your new mattress. There are a variety of stores that offer mattresses in Islamabad/Rawalpindi. You can check out major brand outlets like Diamond Foam, Master Molty Foam, Five Star Foam, and Dura Foam, as well as specialty stores like Waqar Foam, Zahid Sons, Metro Cash & Carry, or Imtiaz Super Market. It's important to compare prices and offerings across multiple stores before making any decisions.
Here is our Guide to buying the Best Mattress Brands in Pakistan
1- Waqar Foam (Diamond Foam)
The Waqar Foam Company is well known in the twin city for its quality service and quick deliveries. They have a very active and supportive support team. They are one of the few shops that offer both in-store and online shopping.
They are well known and reputed Diamond Supreme foam official distributor. Dolce Vita Spring Mattress is one of their best product in different categories like American Spirit and Spine Care Euro Top. This best-seller, like its other mattresses, is available in 4 different sizes, ranging from single to king size.
With different and other comfortable products, that relate your sleeping comfort zone to the next level. Additionally, this shop allows its customers to specify the level of firmness on each side of the bed.
| | |
| --- | --- |
| Phone | 051 5580695 |
| Email | [email protected] |
| Website | https://diamondfoamstore.com.pk/ |
| Address | Kashmir Rd, Saddar, Rawalpindi, Punjab 46000, Pakistan |
| Operating Hours | 09 am – 10 pm (Monday – Sunday) |
Highlights
Online Delivery all over Islamabad
24/7 Support
Oldest Shop in Twin City
Highest Discount
Installment
Customer Feedback
Some of their Client Feedback
metro plus has best comfort quality (not much hard not much soft) which i needed. thanks to Mr. Faizan who delivered item in time in Islamabad with low rate as compared to local market. and gave me a good piece of advice for making decision to buy a comfortable foam. good guy. also thanks to him for granting concessional delivery rate. cash on delivery good option for busy people.

Yaqub Bruhi
Awesome experience, payed full advance, the mattress came to me in given time in the companies van fully sealed brand new. These were my concerns but MR. Naveed from waqar foam fulfilled what he promised. Best product in best rates even the local deals were unable to beat his price so i ordered from bahawalpur. Shipping was free to my house. Which local vendors charge separately. Would totally recommend and buy again from waqar foam

Delta Mani
2- Zahid Sons (Molty Foam)
When it comes to the whole comfort, this name comes to mind, which is why it is considered to be the best mattress shop in Islamabad. We say this because it has mattresses for bedrooms and RVs, cushions for chairs and furniture, and MMF Accessories.
To make sure customers should be happy and feel comfortable sleeping, clients can specify firmness and adjustment according to their needs.
The level of customization here allows you to choose the type of structure, the material for the layer, and the fabric for the exterior of the mattress. The Zahid Sons company also provides marriage packages for newlyweds before designing and building their mattresses.
| | |
| --- | --- |
| Phone | +92 345 9447 766 |
| Email | [email protected] |
| Website | https://moltyfoamislamabad.com/ |
| Address | Rose Plaza, G-9 Markaz G 9 Markaz G-9, Islamabad, |
| Operating Hours | 011 am – 09 pm (Saturday – Thursday) |
Highlights
Online Delivery all over Pakistan
Premium Master Molty Foam Authorised Dealer
Customer Support
Reliable
Customer Feedback
Some of their customers leave feedback.
They are the goto shop along with a couple of other neighbouring shops, if u intend to buy a high grade matteress in Karachi Co. This particular shop is the authorised dealership of MoltyFoam mainly and they will have the most variety of their's in Khi co and even surrounding areas. I usually end up buying from here always.

The owners esp and the staff generally are good and polite. a particular staff member was seen being rude to a customer but on a phone call etc, not in person. that needs to be checked strictly by the owners. That really creates a bad taste for all customers present. The last time, a few days ago, I was abt to leave the shop bcz of this atmosphere. The staff member we dealt with (Sohail I believe) was extremely polite and helpful. Overall I recommend it.

The other two neighbouring shops are also of this same family (cousins or something); (both supreme foam and moltyfoam furniture) that I mentioned at the start.

Shahbaz H
This is best place for buying all your mattresses, bedsheets pillows, blankets etc. The place has great variety and people over there are honest and humble. I have been doing business with them since 10 years and i have not been to any other place in Islamabad and Rawalpindi that is better then them.

Mubashir Hussain
3- Celeste City (Master Molty Foam)
You can also get the best mattresses in Islamabad from Celeste City (Master Molty Foam). This shop is open all week, has extended operating hours and strives to deliver within few hours of purchase. They are also providing home delivery.
MoltyOrtho and Celesta mattresses are available at this shop from the Master Molty Foam Brand. Customers can even visit and try out these mattresses in Celeste City (Master Molty Foam) very own showroom.
| | |
| --- | --- |
| Phone | 0337 9736977 |
| Address | 29 B CH. Archad Shop #01, Main Road Pak PWD Islamabad |
| Operating Hours | 8:30 am – 9:00 pm (Friday – Closed) |
Client Feedback
There were times when molty foam meant only mattress of some specific dimension. But now they got huge collection of products of wide variety. We always loved Master Molty foam, but this time we dealt with the dealer of the outlet namely Waqar. He was extremely courteous, humble and helping person, we were impressed with. Anyhow we selected our required product and went back home. Nice experience!

M Rizwan Jahangir
Before visiting their outlet I had bad experience with unauthorized dealer. But after finding on Google I got their number. quality and customer care is beyond expectations. Good job

Syeda Abrish
4- Quality Furniture Foam House
As its name implies, this shop offers high-quality beds sourced directly from Master Molty, Diamond Supreme, and other global brands. We say this because our quality and customer care team vsisted and analysis all the parameters to rank in our list.
With Mattresses for Less' website, customers can browse mattresses by brands, types, categories, series names, levels of comfort, and styles.
Mattresses for Less also offers other types of mattress accessories like sleep sets, pillows, blankets, and bed bases. You can also purchase furniture and other accessories from this shop.
| | |
| --- | --- |
| Phone | 0335 6850005 |
| Website | https://facebook.com/Qualityfurniture64/ |
| Address | Plot #11, Shop#1, I & T Centre, G-8/4 Islamabad |
| Operating Hours | 8:30 am – 9:00 pm (Friday – Closed) |
Customer Feedback
Long lasting furniture with excellent wood and built quality.

Ammar Azam
5- Chaudhary Foams (Diamond Supreme Foam)
Chuaudhary Foam is one of the best Mattress Shops in Islamabad because it is situated in the heart and center of Islamabad.
| | |
| --- | --- |
| Phone | 0335 6850005 |
| Website | https://facebook.com/Qualityfurniture64/ |
| Address | Plot #11, Shop#1, I & T Centre, G-8/4 Islamabad |
| Operating Hours | 8:30 am – 9:00 pm (Friday – Closed) |
Factors To Consider When Choosing A Mattress
When it comes time to actually choose a mattress there are several factors that need to be considered. Firstly, think about what type of mattress best suits your needs – memory foam, latex, or spring mattresses all have their own unique benefits and drawbacks. Secondly, consider size – will a single or double-sized mattress do? Thirdly think about budget – how much are you willing (and able) to spend on your new bedding? Finally, take some time to test out different mattresses at each store so that you get an idea of which one is most comfortable for you
Costs Involved In Purchasing A Mattress?
In addition to the actual cost of the mattress itself, there are other costs involved when purchasing a new bedding item such as delivery fees or set-up charges if applicable. Be sure to ask about any additional fees before committing to purchase any particular brand or model of the mattress so that there aren't any surprises down the line! Additionally, check with each store regarding return policies in case something goes wrong with your new purchase after taking it home – it's always better safe than sorry!
Conclusion:
If you're looking for a comfortable and good night's sleep then it's definitely time for you to go shopping for the best mattress in Islamabad/Rawalpindi! We hope our guide has provided some useful information on where to shop, what factors need consideration when choosing a mattress, and what extra costs may arise during purchase. Good luck with finding your perfect bedding item – sweet dreams!