Economy
CDA approves Islamabad Bus Service Grant Rs. 873 Million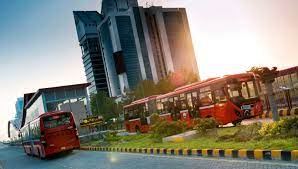 The Capital Development Authority Development Working Party (CDADWP) supported the Rs873 million award for the Islamabad Bus Service by end of February, one year from now.
The Islamabad Bus Service venture would be executed with the inclusion of the private area and it is pointed toward working agreeable transports on various courses.
At first, the transport administration would be worked on three courses at zero endowments. The courses incorporate Sohan Garden to Faisal Mosque, Bhara Kahu to Aabpara to Faiz Ahmed Faiz Metro Station, and Tarnol Railways station to M-5 metro station
The gathering likewise affirmed a venture costing Rs689 million to give the furthest down the line hardware to the Sanitation Directorate to further develop a tidiness framework with less reliance on labor.
One more venture costing Rs401 million is pointed toward improving the limit of the Machinery Pool Organization (MPO) was likewise supported. The CDA will likewise build 115 public latrines with an expense of Rs40 million while the authority additionally expected to focus on support of previously existing latrines at various areas.