aPakistani
Social
Trending
Famous Pakistani reporter selling his viral video used by Salman khan film at NFT platform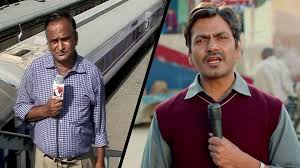 NFT (non-fungible token) is a type of digital asset which cannot be divided. In the blockchain world, this means that each token is unique and can be traded on a market. Non-fungible tokens are being used in gaming, where every digital character or item has its own value.
In the case of Chand Nawab, he was able to sell his viral video for huge amount in exchange for a non-fungible token equivalent to that amount in USD.
Journalist Chand Nawab is popular not just in his own country Pakistan but people in India also know him quite well. How, you may ask? Well, if you have watched Salman Khan's popular movie Bajrangi Bhaijaan, in which he try to show the problem faced by Kashmiris on both the sides. You will remember Nawazuddin Siddiqui played the role of a journalist of the same name. It was Chand Nawab's viral video 'Karachi Se' that actually inspired Nawazuddin's character in the film.
Now, Chand Nawab's viral video 'Karachi Se' is up for auction as a Non-Fungible Token (NFT) on the Foundation app. The bid, price you may ask? Well, the minimum bid price to purchase the Pakistan journalist's viral video is 20 Ethereum tokens or USD 63,604.20 (which is Rs 10 Million approximately).
On the digital auction platform, Chand Nawab wrote, "I'm Chand Nawab, a journalist and reporter by profession. In 2008, a video of me surfaced on YouTube in which I fumbled while reporting Eid Festival frenzy at a Railway station. While reporting, I was contently interrupted by people, my fumbling and constant irritation made this video viral getting millions of views on YouTube and Facebook."