Movies
Carry On Jatta 3: Cast, Crew, and Release Date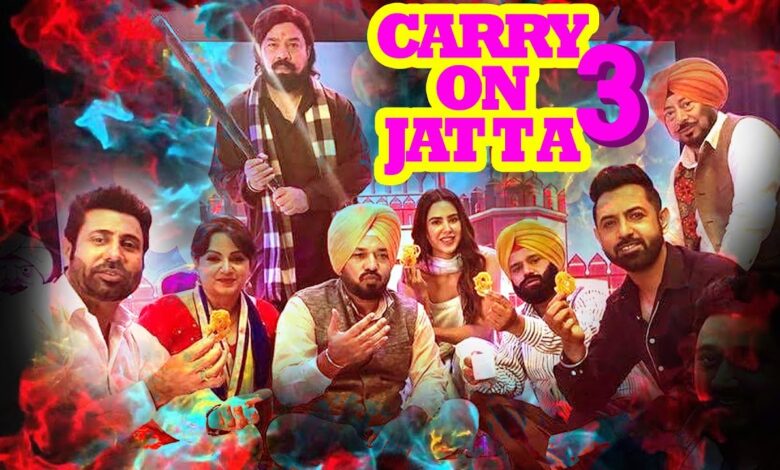 Carry On Jatta, the beloved Punjabi comedy franchise, is all set to make a triumphant return with its highly awaited third installment, "Carry On Jatta 3." Directed by Smeep Kang and produced by Humble Motion Pictures and Sippy Grewal Productions. The movie promises to deliver yet another uproarious and laughter-filled cinematic experience. In this article, we delve into the exciting details surrounding Carry On Jatta 3, providing a glimpse of what fans can expect from this upcoming comedy extravaganza.
The Plot
Carry On Jatta 3 continues the hilarious escapades of the quirky characters that audiences have come to adore. While the plot details have been kept under wraps to maintain the element of surprise, fans can anticipate a rollercoaster ride of laughter, witty dialogues, and comical situations. With its signature blend of slapstick humor and clever storytelling, the movie is sure to keep audiences entertained throughout.
Star-Studded Cast
One of the highlights of Carry On Jatta 3 is its ensemble cast, comprising some of the most talented actors in the Punjabi film industry.
Gippy Grewal, who has become synonymous with the franchise, will reprise his role as the lovable protagonist, bringing his impeccable comic timing and charm to the screen once again. The movie also features a stellar cast including:
Gippy Grewal as Jass
Sonam Bajwa
Binnu Dhillon as Goldy
Kavita Kaushik
Jaswinder Bhalla as Advocate Dhillon
Gurpreet Ghuggi as Honey
B.N. Sharma
Karamjit Anmol
Nasir Chinyoti
Harby Sangha
Shinda Grewal
Naresh Kathooria
Rupinder Rupi
Yo Yo Honey Singh Special Appearance
Filming Locations
Carry On Jatta 3 promises to transport viewers to visually stunning locations that add an extra layer of charm to the narrative. From picturesque villages to bustling cityscapes, the movie captures the essence of Punjab, providing a visually appealing backdrop for the characters' hilarious misadventures.
Director's Vision
Smeep Kang, the talented director behind the success of the previous Carry On Jatta films, is once again at the helm for the third installment. Known for his expertise in delivering rib-tickling comedies, Kang is expected to bring his unique storytelling style and comedic sensibilities to create yet another blockbuster hit. Fans can rest assured that Carry On Jatta 3 will maintain the franchise's signature humor and entertainment value.
Carry on Jatta 3 Release Date and Expectations
Carry on Jatta 3 is releasing in Pakistan on June 29th, 2023 on the 1st day of Eid-ul-Azha. Given the success of the previous two installments, expectations are sky-high for this upcoming comedy flick. With a loyal fan base eagerly awaiting the release, it is safe to assume that Carry On Jatta 3 will be one of the most anticipated movies of the year.
Conclusion
Carry On Jatta 3 is poised to take the Punjabi comedy genre to new heights with its uproarious humor, talented cast, and engaging storytelling. As fans eagerly await its release, the movie is sure to bring joy and laughter to audiences worldwide. Whether you're a die-hard fan of the franchise or simply someone who appreciates a good comedy, Carry On Jatta 3 is definitely a movie to watch out for in the coming months. Stay tuned for more updates on this laughter-packed cinematic treat!