Movies
Christopher Nolan's Oppenheimer Release Date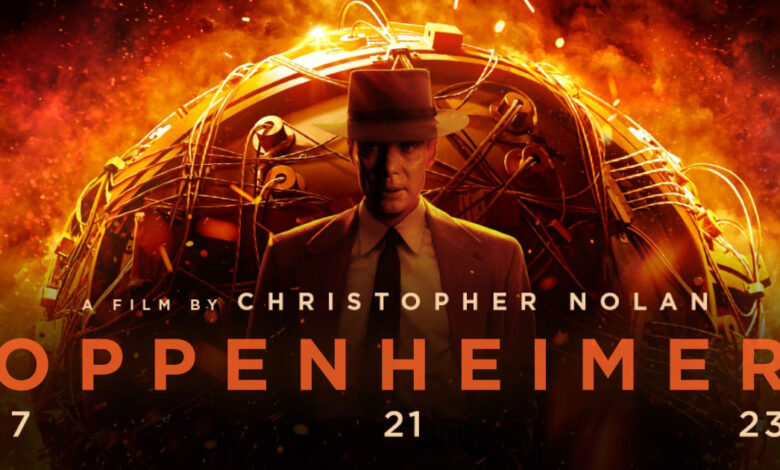 In the world of cinema, few names resonate as powerfully as that of visionary director Christopher Nolan. Known for creating mind-bending and visually stunning masterpieces, Nolan has once again captured the attention of movie enthusiasts and critics alike with his upcoming film, 'Oppenheimer.' The long-awaited first poster has been unveiled, and fans can barely contain their excitement as they eagerly anticipate the film's release date. In this article, we delve into the mesmerizing details of the poster and explore what to expect from Nolan's latest cinematic endeavor.
Poster Unveiling: A Glimpse into History
The newly released poster for 'Oppenheimer' showcases Nolan's distinct visual style and storytelling prowess. The poster's design exudes an aura of mystery and intrigue while providing a glimpse into the historical context of the film. Set during World War II, 'Oppenheimer' centers around the life and work of J. Robert Oppenheimer, the brilliant physicist who played a pivotal role in the development of the atomic bomb.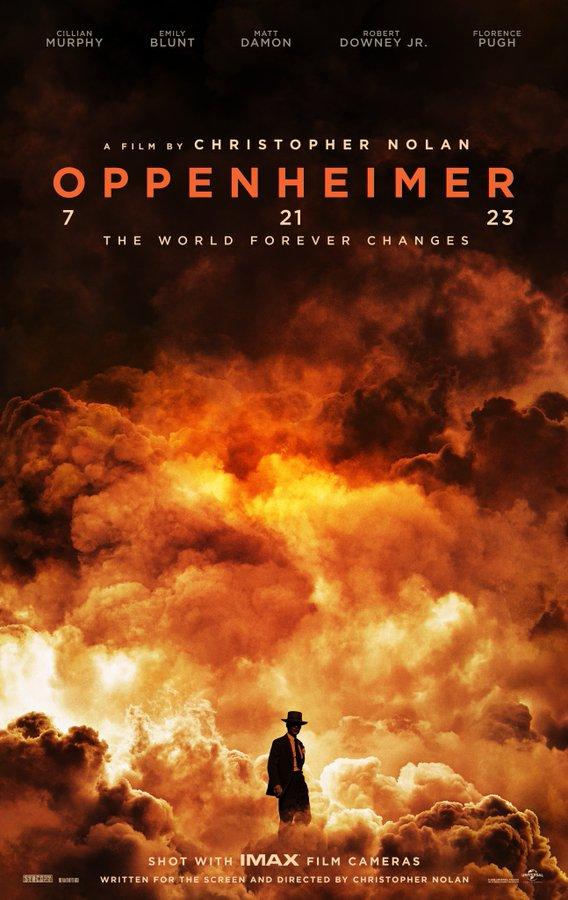 The poster's color palette is a juxtaposition of muted tones and stark contrasts, creating a sense of dramatic tension. It features the silhouette of Oppenheimer himself, surrounded by equations and scientific symbols, hinting at the profound impact of his contributions to science and history. Nolan's choice to focus on Oppenheimer's character is an indication that the film will delve into the complexities of the man behind the scientific breakthroughs.
Release Date: Mark Your Calendars
The 'Oppenheimer' poster not only unveiled a captivating visual but also brought with it the much-anticipated release date. Christopher Nolan's latest creation is set to hit theaters worldwide on July 21, 2023. The announcement has sparked enthusiasm and speculation within the film community as fans eagerly countdown to the date when they can witness Nolan's storytelling brilliance on the big screen once again.
Cast of Oppenheimer
Cillian Murphy as J. Robert Oppenheimer
Emily Blunt as Katherine "Kitty" Oppenheimer
Matt Damon as Leslie Groves
Robert Downey Jr. as Lewis Strauss
Florence Pugh as Jean Tatlock
Josh Hartnett as Ernest Lawrence
Casey Affleck as Boris Pash
Rami Malek as David Hill
Kenneth Branagh as Niels Bohr
Benny Safdie as Edward Teller
Dylan Arnold as Frank Oppenheimer
Gustaf Skarsgård as Hans Bethe
David Krumholtz as Isidor Isaac Rabi
Matthew Modine as Vannevar Bush
David Dastmalchian as William L. Borden
Tom Conti as Albert Einstein
Michael Angarano as Robert Serber
Jack Quaid as Richard Feynman
Josh Peck as Kenneth Bainbridge
Olivia Thirlby as Lilli Hornig
Dane DeHaan as Kenneth Nichols
Danny Deferrari as Enrico Fermi
Alden Ehrenreich as a Senate aide
Jefferson Hall as Haakon Chevalier
Jason Clarke as Roger Robb
James D'Arcy as Patrick Blackett
Tony Goldwyn as Gordon Gray
Devon Bostick as Seth Neddermeyer
Alex Wolff as Luis Walter Alvarez
Scott Grimes as Counsel
Josh Zuckerman as Giovanni Rossi Lomanitz
Matthias Schweighöfer as Werner Heisenberg
Christopher Denham as Klaus Fuchs
David Rysdahl as Donald Hornig
Guy Burnet as George Eltenton
Louise Lombard as Ruth Tolman
Harrison Gilbertson as Philip Morrison
Emma Dumont as Jackie Oppenheimer
Trond Fausa Aurvåg as George Kistiakowsky
Olli Haaskivi as Edward Condon
Gary Oldman as Harry S. Truman
John Gowans as Ward Evans
Kurt Koehler as Thomas A. Morgan
Macon Blair as Lloyd K. Garrison
Harry Groener as Gale W. McGee
Jack Cutmore-Scott as Lyall Johnson
James Remar as Henry Stimson
Gregory Jbara as Warren Magnuson
Tim DeKay as John Pastore
James Urbaniak as Kurt Gödel
Plot of 'Oppenheimer'
The plot of 'Oppenheimer' revolves around the fascinating life of J. Robert Oppenheimer, one of the most enigmatic figures in history. As the driving force behind the Manhattan Project, Oppenheimer's scientific brilliance led to the development of the atomic bomb, which subsequently played a crucial role in World War II. The film is expected to delve deep into Oppenheimer's personal struggles, ethical dilemmas, and the profound consequences of his scientific achievements.
Nolan's Signature Filmmaking Style
As an auteur, Christopher Nolan is renowned for his unique approach to storytelling, which seamlessly blends intricate narratives, non-linear timelines, and breathtaking visuals. His previous works such as 'Inception,' 'Interstellar,' and 'The Dark Knight' trilogy have garnered critical acclaim and a devoted fan base. With 'Oppenheimer,' audiences can expect Nolan's trademark cinematic magic, keeping them on the edge of their seats throughout the film.
In addition to Nolan's directorial brilliance, the film boasts a stellar cast and crew. The acclaimed filmmaker has a penchant for assembling top-notch talent, both in front of and behind the camera. Such dedication to excellence further raises expectations for 'Oppenheimer' to be a cinematic tour de force.
Conclusion
With the release of the first poster and announcement of the highly awaited release date, Christopher Nolan's 'Oppenheimer' has solidified its position as one of the most anticipated films in recent history. The enigmatic portrayal of J. Robert Oppenheimer in the poster sets the tone for what promises to be another groundbreaking and emotionally charged cinematic experience. As fans eagerly await the film's release, they can be assured that Nolan's 'Oppenheimer' will deliver a thought-provoking and visually captivating journey into the life of a man whose contributions forever altered the course of history. Mark your calendars and prepare for a mesmerizing cinematic experience on 21st July 2023.