Movies
Daadal – Cast, Crew, and Release Date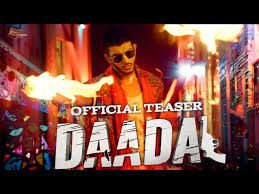 Abu Aleeha: The Filmmaker Bringing Rawness to Pakistani Cinema with Daadal
If you're looking for a unique take on the world of gangsters and crime, look no further than Abu Aleeha's upcoming film, Daadal. This filmmaker has a reputation for taking a radically different approach to storytelling and filmmaking, and Daadal is no exception. In this gangster crime thriller, Aleeha exposes different genres like horror, suspense and action to the audience, focusing on the story of a female boxer Haya Baloch who becomes a contract killer to avenge her sisters' honor.
The Underworld of Lyari: A Metaphor for Crime and Gangsters
Aleeha's inspiration for Daadal came from his extensive research on the underworld of Karachi. He discovered that the underworld of Lyari was much more complicated, brutal, and organized than its Mumbai counterpart. The film creates a metaphor of crime, mafias, and gangsters, using the character of Daadal Baloch, the father of Rehman dakait, who started the trend of gang wars, organized crime, rackets, and extortion in Lyari.
Daadal Cast
Genre
Action
Writer
Abu Aleeha
Actors
Adnan Shah
Maira Khan
Mohsin Abbas Haider
Shamoon Abbasi
Sonya Hussain
Producer
Neal H. Moritz
Neha Laaj
Cinematography
Asrad Khan
Music Composer
Ali Allahditta
Bilal Allahditta
Daadal: The Raw Interpretation of Lyari's Underworld
According to Aleeha, Daadal is his interpretation of the underworld of Lyari through the eyes of a female boxer. This is where Sonya Hussyn, who plays the lead protagonist, comes in. Aleeha had no doubt that she was the right choice for the role. In addition to her intense physical training, Hussyn had to work on getting her accent right. Aleeha revealed that there are three types of accents being used in Lyari, and they mixed kachi Memon and Baloch to create a unique accent of their own. Hussyn even visited the local bazaars of Lyari to observe women to build her character traits.
Daadal Release Date
Daadal movie is expected to be on April, 21 2023
Box Office Prospects and Challenges
Aleeha has been struggling to make a place for himself in the industry. He feels that the film industry of Pakistan needs to change its approach and focus on making good films, irrespective of their budget and genre. He believes that the casting should be done on merit rather than Instagram followers. Aleeha is confident about the box office prospects of Daadal, but he is also realistic about the challenges facing him in a cinema industry dominated by six prominent filmmakers.
Final Thoughts
Abu Aleeha is a filmmaker who is not afraid to take risks and push boundaries. Daadal promises to be a raw and gritty interpretation of the underworld of Lyari, with a female boxer taking center stage. We wish Aleeha and the team of Daadal the best of luck and can't wait to see how the film performs at the box office.