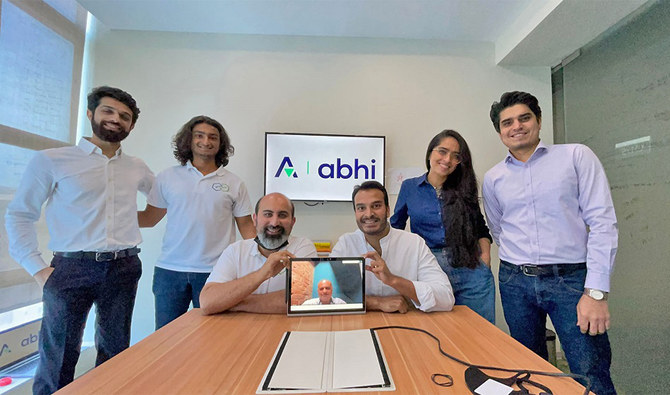 KARACHI: A Pakistan-based fintech, Abhi, is all set to launch its operations in the United Arab Emirates (UAE) from next month, enabling thousands of employees to draw salaries before the next payroll, the firm's CEO said, the first step in the company's expansion to the Middle East and beyond.
Abhi is the first Pakistani financial wellness platform that enables salaried employees to draw a percentage of their accrued salary before the next payroll through a mobile app or via SMS. It was also the first Pakistani fintech among 16 startups chosen by Abu Dhabi-based business incubator, Hub71, for its Incentive Program in August this year.
Abhi, the Pakistani startup, is expanding its reach to other markets from next month after raising around $19 million in less than two years. It already has a presence in Pakistan. But after the economy slowed down, Abhi is moving into other markets in the Middle East from next month.
Omar Ansari, the founder, and CEO of Abhi told Arab News the company would launch in the UAE in November 2022, empowering an estimated 100,000 workers.
The company is already running in Pakistan, where the majority of its 1,000-strong teamwork. The startup will soon be opening offices in Sri Lanka, Bangladesh and Saudi Arabia too.
Its app works on a per-minute basis so workers can withdraw money on a daily basis.
"Our first priority is to provide immediate cash payments to our workers on a daily basis so that they can spend on their day-to-day expenses and not wait for the end of the month to do it," Ansari said.
It is also planning to set up a digital currency exchange for migrant workers to facilitate cross-border transfers in Pakistan and abroad, he said.
Next, Abhi is working to make sure it has the best team in the industry and is planning to invest in marketing.
"The major challenge is economic instability. When the macro headlines are so negative, even the most optimistic investors opt to wait and see," Uzair Younus, a Pakistan director at the Washington-based Atlantic Council, told Arab News.
It is said that the startup industry in Pakistan is still quite promising. Pakistani startups have raised $328 million in the 9-month period of 2022. However, in the same period of next year, they are expecting to raise more than $500 million.
Pakistani Startups are now attracting global investors despite the current economic scenario. They are planning to raise over $500 million in the upcoming fiscal year.
Experts also believe that Pakistani startups will face fewer troubles in the future.